Sri Sarada Math, Varanasi, Uttar Pradesh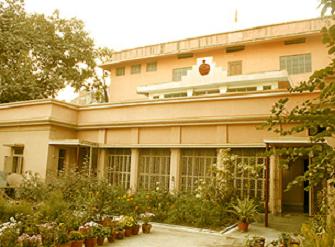 Formally started in 1993, the centre conducts:
Daily ritualistic worship.
Weekly scripture classes and Ramnam Sankirtan on ekadasi days.
Celebration of the birthdays of Sri Ramakrishna, Sri Sarada Devi, Swami Vivekananda and other great world teachers as well as some other festivals.
Interviews and classes in and outside the centre.
Sunday classes for children
Welfare activities: Educational help to underprivileged students, medical and pecuniary help and the distribution of clothes and blankets to the needy.

The centre also maintains Sri Sarada Kutir, an additional monastic retreat house at D 53/18, Luxa, Varanasi - 10.
Sri Sarada Math
D 61/29A, Sidhgiri Bag,
Varanasi - 221 010.
Phone:91-(0542) 2420618
Email: varanasi.saradamath@gmail.com
If you want peace of mind, do not find fault with others. Rather learn to see your own faults. Make the whole world your own. No one is a stranger, my child; this is your own.