Australia: Sydney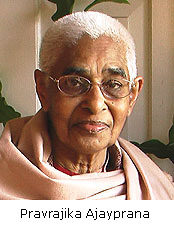 "A Vedanta Society in any country is a happy proposition. It is a very rational system. There is no sensation or mystery-mongering in Vedanta. Only calm, silent spirits can understand and profit from it and I am very glad to see that in Australia there are people who think in this way.' said Swami Ranganathananda, the 13th President of the Ramakrishna Math and Mission, on June 9, 1974, at the inaugural meeting of the Ramakrishna Vedanta Society of New South Wales. The Swami went on to say: 'It is not giving you one more religion to add to the number of religions that are already here—it will give you a certain philosophy of life, where life and religion are integrated in a comprehensive spiritual outlook. This kind of contribution is vital to a country like Australia. Its history is not like other countries, it is a new land. People came from many other countries …. bringing with them [other] cultural ideas, but as yet it doesn't have a distinct personality of its own, it is still reflecting the personality of English culture and other cultures. Now is the time for Australia to begin to develop a personality of its own." ' The Swami was visiting Australia on his annual world-wide lecture-tour. The meeting was held in the home of Mrs.Vilma Spencer who played a crucial role in the pioneering work for the Vedanta movement in Australia. She had already started a Vedanta Book Agency to assist the spread of Vedanta and Ramakrishna/ Vivekananda literature. The Book Agency was also instrumental in providing a point of contact between large numbers of people with a common interest. 
Formal request was subsequently made to the Trustees of Sri Sarada Math for a sannyasini (nun) to be sent to Sydney to establish a centre and Pravrajika Ajayaprana initially went for six months and gave weekly classes on the Bhagavad Gita and Swami Vivekananda's Bhakti Yoga in the Vedanta Bookshop in the year 1977.Again in 1979, her second visit was made for a three-month period. In 1982 Pravrajika Ajayaprana returned to Sydney along with an assistant nun, to begin the first Centre of Sri Sarada Math outside of India.
The Ramakrishna Sarada Vedanta Society of New South Wales owns property in three locations :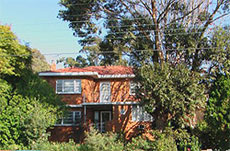 1.The convent or 'Sarada Tapovan' is at 13,Claremont Road, Burwood Heights, N.S.W. 2136.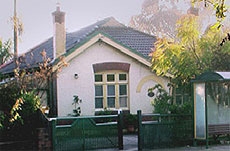 2. The Vedanta Bookshop was moved in 1987, when the Society acquired a Meeting Hall in the historic Malvern Hill Heritage Estate at Croydon,N.S.W.2132. The Vedanta Hall which is about a half-mile away, houses the Vedanta Book Agency and served also as premises for holding classes and other cultural activities.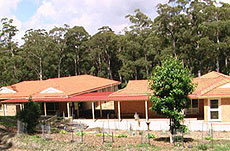 3.In 1990 the Society purchased a 100-acre rural property, 'Bharati Retreat Centre' at Lot 5, Wallaby Hill Road, Robertson, in the Southern Highlands, a two hours' drive from Sydney to be used as a Retreat Centre. It has proved to be a valued asset, highly appreciated by all who have visited there and been able to absorb the tranquil atmosphere. The natural beauty of the place with its majestic forest and wild bushes offered a congenial atmosphere for silent meditation, classes and retreats for the benefit of spiritual seekers. The retreat house has two wings to accommodate men and women and all modern facilities in a beautifully landscaped garden.

For more details please log on to: www.saradavedanta.org


Ramakrishna Sarada Vedanta Society of N.S.W .
Mailing Address: P.O.Box No. 817, Strathfield, Sydney
N.S.W. 2135, Australia.

Ashrama: Sarada Tapovan
13, Claremont Road,
Burwood Heights, N.S.W. 2136
Ph: 61-2-97152081 Fax: 61-2-97152082
e-mail : admin.saradavedanta@bigpond.com
Website: www.saradavedanta.org
If you want peace of mind, do not find fault with others. Rather learn to see your own faults. Make the whole world your own. No one is a stranger, my child; this is your own.