Sri Lanka: Colombo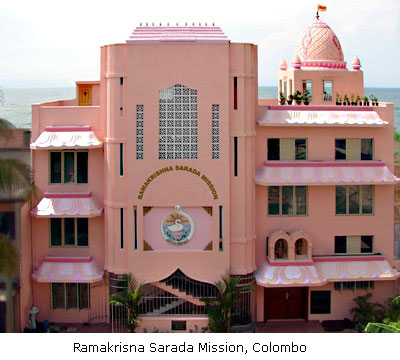 Under the inspiration and guidance of Pravrajika Muktiprana, the first General Secretary of Sri Sarada Math & Ramakrishna Sarada Mission, Sri Ramakrishna Sarada Samity was started in Colombo in 1970 with the object that in due course, it may  be affiliated to Sri Sarada Math/ Ramakrishna Sarada Mission. While commemorating the 150th birth anniversary of Holy Mother, the authorities of the Samiti again sent earnest appeals for the said affiliation, in response to which two Sannyasinis were sent to Colombo in August 2005; and in accordance with the rules of the Govt. of Sri Lanka, the Samity changed its name to Ramakrishna Sarada Mission (Lanka Branch) with effect from April 2006. The General Secretary Pravrajika Amalaprana Mataji laid the foundation stone of New Prayer Hall & Study Hall on 6th September 2006.
| | |
| --- | --- |
| | |
The centre at Colombo, Ramakrishna Sarada Mission (Lanka Branch) conducted regular worship, bhajans, Pradeep Puja, spiritual and cultural classes, lectures, a Bal Mandir etc. Special Puja was performed on the birthdays of Sri Ramakrishna, Sri Sarada Devi and Swami Vivekananda as well as on Thai Pongal, New Year and Deepawali days. The centre conducted the Matri Mandir, an old age home for women with 15 inmates, Sri Sarada Balika Mandir, a children's home in Colombo with 35 children and also an orphanage at Matale with 25 orphans, where a Sunday School is also conducted to inculcate moral and ethical values in the children (average attendance: 100). Other charitable activities like distribution of clothes, study materials to needy students etc. continued as before. Pravrajika Sushantaprana and Pravrajika Atmadevaprana are in charge of the work as President and Secretary of the centre, respectively.
52/1, Vivekananda Road,
Colombo-6, Sri Lanka.
Phone: 94-11-2361469
e-mail: ceysara@gmail.com

If you want peace of mind, do not find fault with others. Rather learn to see your own faults. Make the whole world your own. No one is a stranger, my child; this is your own.