Sri Sarada Math, Valsad, Gujrat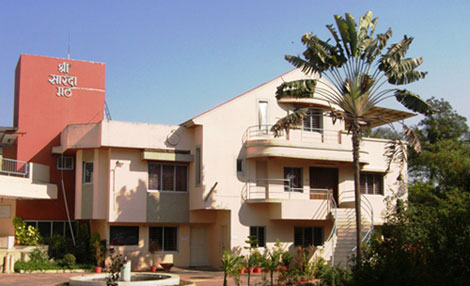 Started in April 2000 on 2 acres of gifted land with building situated in beautiful surroundings, the centre conducts daily Puja, Ramnam Sankirtan on Ekadashi days, weekly scriptural classes and occasional retreats, besides the following activities:
| | |
| --- | --- |
| | |
| Basic School | Nutrition Programme |
| | |
| --- | --- |
| | |
| Dispensary | Book Sales |
Free coaching class for children fro standard III to X. Free distribution of study materials and tiffin to the students.
Balmandir or Sunday class for children to inculcate moral and religious values.
Free Computer class and spoken English class.
Free Yoga class on Sunday for children.
Tailoring class for women and girls to help them become financially self-reliant.
Free Music class for women and girls once a week.
Free Children's Library and Reading Room facility.
Sales Section of books for propagatiion of the Neo-Vedantic ideals of Sri Ramakrishna, Sri Sarada Devi and Swami Viivekananda.
Charitable dispensary (homoeopathic, allopathic and ayurvedic) run thrice a week. Free distribution of medicines and nutritious food to the needy. Free pathological test facilities to the patients.
Occasional medical camps for heart disease, asthma, T.B., arthritis etc. are conducted for the benefit of nearby needy villagers under the supervision of qualified doctors.
Welfare activities: educational, medical and pecuniary help to the needy.
Relief Work was conducted during Earthquake in 2001 and flood relief in South Gujarat in 2005 and 2006.
| | |
| --- | --- |
| | |
| Coaching Class | Tailoring Class |
| | |
| --- | --- |
| | |
| Computer Class | Library |
The extension of Prayer hall was duly dedicated by Pravrajika Bhaktiprana, the Vice President of Sri Sarada Math and the Ramakrishna Sarada Mission on 11th July, 2006 on Gurupurnima Day.
Sri Sarada Math
Mograwadi, 
Valsad - 396 001 
Phone: 91-2632-224408 
Fax:91-2632-223399 
e-mail: saradamathvalsad@yahoo.co.in
If you want peace of mind, do not find fault with others. Rather learn to see your own faults. Make the whole world your own. No one is a stranger, my child; this is your own.