Sri Sarada Math, Sihore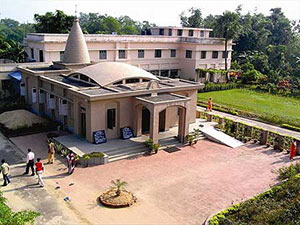 Sri Ramakrishna left Sri Sarada Devi in the world to demonstrate the ideal of motherliness to all beings. In her, one finds all the qualities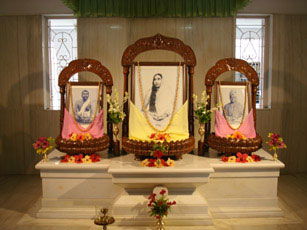 of women that are conducive to the welfare of humanity. In this present age of full of conflicts, it is indeed necessary, now more than ever, that men and women everywhere should come to know of her glorious character. Before Holy Mother was born, her mother Shyamasundari Devi had an extraordinary experience, under a Bel tree in Sihore, near Jayrambati which is connected with Holy Mother's divine advent. That Bel tree stands even today.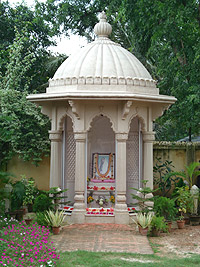 In connection with Holy Mother's 150th Birth Anniversary(1853-2003), Sri Sarada Math has purchased this sacred place where the Bel tree stands. There, the consecration of the temple and monastic quarters took place on the Friday, the 17th of June, 2005 by Most Revered President Mataji, Sri Sarada Math. 

Daily worship and aratrika and Ramnam Sankirtan on Ekadashi days, in its beautiful shrine and prayer hall; celebrations of birthdays of prophets and saints and some religious festivals.
Religious and cultural classes for local women were conducted regularly, as well as occasional preaching work in nearby villages.
Other activities :A Sunday School with 42 children to inculcate in them higher values.
Sarada Vidya Niketan, a coaching centre from standard I to VIII with 70 students. Tiffin, school materials, uniforms etc. were provided free, involving a total expenditure of Rs. 2,52,208/-.
| | |
| --- | --- |
| | |
| Yogavyayam class | Distribution of snacks |
Yogavyayam classes for young girls under the direction of an experienced teacher (attendance : 160).
National Youth Day – Swami Vivekananda's birthday on 12th January was duly observed with a colourful procession around the village when hundreds of students and women participated carrying Swamiji's photo, after which books and snacks were given to all.
| | |
| --- | --- |
| | |
| Homoeopathic dispensary | Distribution of blankets |
A free charitable homoeopathic dispensary for women and children functioned twice a week. No. of patients 2696.

Medical camps including dental camps for women and children were organized regularly. No. of patients : 197. Medicines were distributed free. Mobile medical services continued in a nearby forest area and 486 patients were treated. Medicines were given free.

Sarees, clothes, sweaters, shawls, study materials, school bags, blankets etc. were distributed among poor villagers and students. Pecuniary help was also given to needy students and for medical treatment, while meritorious girl students were given stipends to pursue their education. Amount spent : Rs. 3,72,854/-.

Sri Sarada Math
P.O. & Village Sihore
(Near Jayrambati Matri Mandir)
Dist.: Bankura - 722 161.
Ph: 8597034874
Email:ssmshihore@gmail.com
If you want peace of mind, do not find fault with others. Rather learn to see your own faults. Make the whole world your own. No one is a stranger, my child; this is your own.