RKSM Sister Nivedita Heritage Museum and Knowledge Centre, Kolkata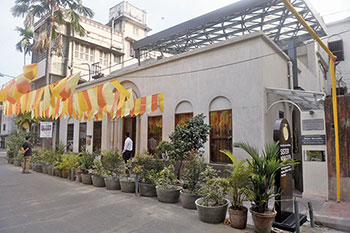 The house of Sister Nivedita at 16, Bosepara Lane, (now 16A Ma Saradamoni Sarani) was acquired by the West Bengal Government and handed over to the Ramakrishna Sarada Mission on 16th March, 2013; and soon the restoration work of the building was started under the supervision of the Archaeological Society of India (ASI) to set up a museum, an archive and a nodal centre of research on Sister Nivedita.
Sister Nivedita opened her School in this building on 13th November, 1898 in the presence of Holy Mother Sri Sarada Devi, Swami Vivekananda and some other direct disciples of Sri Ramakrishna.

Eminent personalities like Jagdish Chandra Bose and his wife Abala, Rabindranath Tagore, Aurobindo Ghosh and others visited this house and held discussions with Sister Nivedita on art and culture. Swami Vivekananda with his brother disciples also visited this building many times. The museum was inaugurated on 15th March, 2020, but due to the pandemic it was opened for the public from September 2021. The centre acquired a new premises at 19, Bosepara Lane (present Ma Saradamoni Sarani) to conduct welfare and research activities primarily among women under the name NIHAR (Nivedita Institute of Human Advancement and Research).
From April 2023, the centre has been made a separate branch of the Ramakrishna Sarada Mission.
For more details visit www.sisterniveditahouse.org
Address:
16A Ma Saradamoni Sarani, Baghbazar,
Kolkata 700003, West Bengal
Phone No.: 91 (33) 25550424
e-mail: : sisternivedita.museum@gmail.com

If you want peace of mind, do not find fault with others. Rather learn to see your own faults. Make the whole world your own. No one is a stranger, my child; this is your own.