Ramakrishna Sarada Mission Matribhavan, Kolkata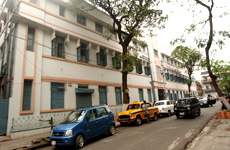 Started in 1950 in its own premises as a branch of the Ramakrishna Mission with only 10 beds, this maternity hospital was transferred to the Ramakrishna Sarada Mission in November 1961 and has now 64 beds. It has also a well-equipped operation Theatre, Outdoor Clinics, a specially-equipped Baby Clinic and Clinical and Bio-chemical laboratories as well as U.S.G. and C.T.G.
From the very beginning the Matribhavan aimed at providing health care to poor urban mothers and children, promoting the concepts of safe motherhood among the underprivileged families.

The centre conducts the following activities:
Outdoor Department: free of charge for all.
Indoor Department.
A Children's Welfare Scheme of elementary education for the neighbouring underprivileged children: daily tiffin, books, tuition fees, garments, medicines etc., is supplied to them free.
Training in handicrafts and needle work is given to needy women of the locality.
| | |
| --- | --- |
| | |
| Neonatal Intensive Care Unit | Surgery-under-the-way |
Welfare activities: Financial help on monthly basis is provided to girls for undergoing the Sevika Training. Help is rendered to needy women and children in cash and kind. Medicines, foodstuff, woollen blankets and garments are also distributed among needy women and children, while relief is rendered in some rural areas.
School of Nursing started in April 2007 with 30 students as a Public Private Partnership with the National Rural Health Mission (Govt. of West Bengal). It is recognized by the Indian Nursing Council.
ANM Function - Oath taking Ceremony
The hospital runs a clinic for children of  age group 1 month to 3 year with full immunization and a clinical and bio-chemical laboratory equipped with modern technology to ensure efficient and quick service. It also conducts  Ultrasonography & Cardiotocography. 

The hospital has taken up a long term development project to provide high quality healthcare and treatment to needy mother and children who would otherwise not be able to benefit from the modern medical facilities. This would also enable the hospital to increase its coverage of completely free treatment. Funds are being collected for the purpose. During the period Community Health Programmes are started.
Health & Eye Camp
Cultural and religious classes and lectures for women in and outside the centre continued as before.
Inauguration of the new gynecology wing, a modernized operation theater complex, a fully equipped Neonatal Intensive care Unit etc. took place on 7.2.2006.
Ramakrishna Sarada Mission Matribhavan
7A, Sree Mohan Lane,
Calcutta - 700 026.
Phones: 91-33-2464 4189/4937, 2466 8207/8273
e-mail: rksmmatribhavanhosp@gmail.com
Website: www.rksm-matribhavan.org
If you want peace of mind, do not find fault with others. Rather learn to see your own faults. Make the whole world your own. No one is a stranger, my child; this is your own.