Ramkrishna Sarada Mission Ashrama, Entally, Kolkata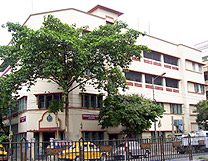 Opened in 1956 as a branch of the Ramakrishna Mission, the centre was handed over to the Ramakrishna Sarada Mission in March 1961. The aims and objects of the Ashrama are to disseminate the spiritual and cultural ideas of India among women;to impart elementary education to older girls and to help college students in various ways. The centre has a four-storeyed building with a well-equipped auditorium and a prayer hall.

This centre conducts:-  Regular religious discourses on Fridays  and  lectures on Tuesdays on various topics.

Special programmes with endowment lectures, symposia, speeches, seminars for college students, competitions, music recitals, educational and cultural film show etc.
| | |
| --- | --- |
| | |
| Library | Tailoring Class |
Free general library and text books library for 
college students.
Free painting classes.
Free coaching classes for needy students.
Classes for embroidery and other crafts.
Adult education classes for women.
The Sunday classes & Spoken English classes.
Yoga classes for young girls and ladies twice a week.
The charitable allopathic-cum-homoeopathic dispensary.
Spiritual and cultural retreats for ladies and students.

Other welfare activities: Financial help is given to needy women, students and children. Medicines, books are distributed to the economically weaker sections of the society. Clothes are distributed among village children.  


Ramakrishna Sarada Mission Ashrama
P-22, C.I.T.Road, Entally Calcutta 700014
Email: rksma_cit@rediffmail.com
If you want peace of mind, do not find fault with others. Rather learn to see your own faults. Make the whole world your own. No one is a stranger, my child; this is your own.