Sri Sarada Math, Chennai, Tamil Nadu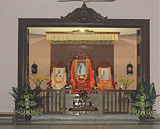 Started in February 1965 in a rented house, the Math moved to its present address in December of the same year. Later, a beautiful shrine with open prayer hall was constructed close to the main building.

The centre conducted the following activities during the year 2017-18: 

Daily worship and Aratrika in the evening and fortnightly Ramnam Sankirtan.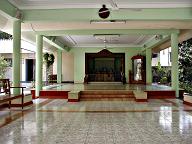 Celebration of birthdays of Sri Ramakrishna, Sri Sarada Devi, Swami Vivekananda and other great world teachers.

Study circles, special classes and personal interviews on spiritual matters, as well as outdoor classes. Sannyasinis also participated in lectures, seminars, conferences in different places of South India. Pradeep Puja  was conducted as before in many places.

A Balmandir or Sunday Class for young girls on the Gita, the Upanishads, the stories from the Puranas and the Epics. Nutritious food was supplied free to the children (average No. 50).

Nivedita Tailoring Centre  counted 215 trainees who were taught tailoring, embroidery and other crafts.

Educational help and other welfare activities: During the period, help was rendered in cash and kind to needy school and college students and children of rural areas in various ways, as well as for medical treatment. Amount spent Rs. 1,61,306/-.
| | |
| --- | --- |
| | |
| Health Camp | Dental Clicnic |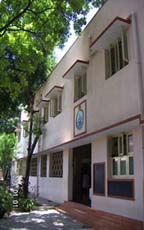 Sri Sarada Seva Kutir, the charitable clinic for women and children, functioned thrice a week under the supervision of qualified doctors. The Dental Dept. and other sections, namely, Ophthalmology, Physiotherapy, Orthopaedics, X-ray, E.N.T., E.C.G. Acupressure and the pathological laboratory served poor and needy women and children who came from the city and nearby villages. Medicines worth Rs. 15,56,435/- were provided free of cost. No. of patients treated : 97,859.
During the period, immunization, including pulse polio immunization, was given to about 867 children. Special eye camps were also conducted once a month for the benefit of poor patients. The homoeopathic section treated 913 patients.
Sarees and clothes were occasionally distributed among1260 needy women and children.


Rural Development work :
The centre has taken up a development project at Salur Village, Kancheepuram district, where the following activities were conducted : coaching classes with 200 children, Sunday schools with 190 children from Salur and other villages and vocational training with 30 ladies. Free medical camps were also conducted twice a month. Medicines were given free. Financial and other help was given to 3100 students and others, involving an expenditure of Rs. 7,06,175/-.
Fire relief was rendered to 460 victims by way of distribution of cereals, biscuits, etc as well as school bags. Amount spent Rs. 2,81,062/-.
During the period under review, medical assistance was rendered to 2895 patients involving an expenditure of Rs. 5,39,048/-.
Sri Sarada Math
7, Raghaviah Road
Chennai - 600 017
Phone: 91-44-28157837
e-mail: saradamathchennai@gmail.com
If you want peace of mind, do not find fault with others. Rather learn to see your own faults. Make the whole world your own. No one is a stranger, my child; this is your own.