Sri Sarada Math, Chennai, Tamilnadu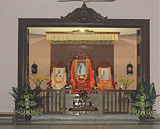 Started in February 1965 in a rented house, the Math moved to its present address in December of the same year. Later, a beautiful shrine with open prayer hall was constructed close to the main building.

The centre conducts: 

Daily worship and Aratrika in the evening, and Ramnam Sankirtan on Ekadashi days.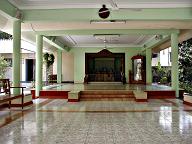 The birthdays of Sri Ramakrishna, Sri Sarada Devi, Swami Vivekananda and other great world teachers are celebrated. Occasional preaching work and pradip pujas and satsangs in and around Chennai.
There are also -
Study Circles, special classes, personal interviews on spiritual matters as well as outdoor classes.

Free coaching classes are conducted regularly. Tiffin is also distributed to them regularly.

Balmandir or Sunday classes for young girls on the Gita, the Upanishads, stories from the Puranas. Uniforms, nutritious food etc. are supplied free to the children.
| | |
| --- | --- |
| | |
| Health Camp | Dental Clicnic |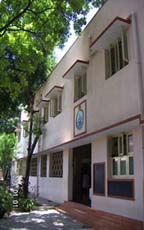 Help to the needy: Financial help is rendered school and college students and children of rural areas in various ways. Under a Project sponsored by the Rotary Club, Ambattur Branch, sleeping kits containing light bedding, utensils, uniform-dresses, school bags etc., are distributed. Educational aid is given to students while pecuniary help, cycles and sewing machines are gifted to needy people.
Sri Sarada Seva Kutir, a charitable clinic for women and children, is functioning thrice a week under the supervision of competent doctors such as General Physicians, a Pediatrician, Gynecologist, and Ophthalmologist. Patients come from the city as well as from surrounding villages. Special eye camps are conducted every month for the benefit of the needy patients. It also conducts a Dental Clinic and Homeopathy Clinic. It has a well-equipped Laboratory, ECG, X-Ray Unit and a Physiotherapy Department.
Sri Sarada Math
7, Raghaviah Road
Chennai - 600 017
Phone: 91-44-28157837
e-mail: saradamath@gmail.com
If you want peace of mind, do not find fault with others. Rather learn to see your own faults. Make the whole world your own. No one is a stranger, my child; this is your own.