Sri Sarada Math
& Ramakrishna Sarada Mission
Recent Publications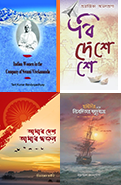 Online Store
About The Math
The Dream of Swami Vivekananda
In 1954, the year of Holy Mother Sri Sarada Devi's birth centenary, a small piece of land with a few buildings on it was procured on the eastern bank of the Ganga. Swami Vivekananda once stated that "With Holy Mother as the centre of inspiration, a Math is to be established on the eastern bank of the Ganga. As Brahmacharins and Sadhus will be trained in this Math (Belur Math) so in the other Math also, Brahmacharinis and Sadhvis will be trained."
Important Notice
Devotees will be allowed to offer pranams at the temple from 6th October to 31st October 2021 following all the Covid restrictions. ...

Timings
Morning : from 9.30 to 10.30
Evening :from 3.30 to 4.30

1. The devotees will enter from Gate No. 1 in small groups (8 person at a time).Wearing mask is compulsory. Temperature will be checked and sanitizer will be given near the Gate. Devotees should produce 2nd Vaccination Certificate at the Gate.
2. The devotees will directly go to the Mandir and make pranam near the Main entrance. The offerings and pranami will be collected there.
3. They will come down through the Eastern side staircase.
4. All the devotees are requested to not to make pranams to any Senior Matajis and directly come out through Gate No. 1.
5. The next group can enter only after the previous people leave the temple.
6. The devotees should not stay inside the Math premises for more than 10 minutes.
7. There is no provision for Annaprasad.
Nibodhata

the Bengali journal of Sri Sarada Math, is published bimonthly.
more...
Current Issue: Sept. - Oct. 2021
Samvit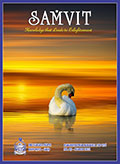 Samvit, the bi-annual English journal is published by Sri Sarada Math from the Ramakrishna Sarada Mission Centre at New Delhi.
more...
Current Issue: March 2021
Archive Issues
Current News
Updated on 21 Oct. 2021
more...
Durga Puja was observed at the headquarters.
News Archives