Sri Sarada Math
& Ramakrishna Sarada Mission
Recent Publications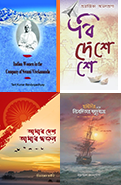 About The Math
The Dream of Swami Vivekananda
In 1954, the year of Holy Mother Sri Sarada Devi's birth centenary, a small piece of land with a few buildings on it was procured on the eastern bank of the Ganga. Swami Vivekananda once stated that "With Holy Mother as the centre of inspiration, a Math is to be established on the eastern bank of the Ganga. As Brahmacharins and Sadhus will be trained in this Math (Belur Math) so in the other Math also, Brahmacharinis and Sadhvis will be trained."
Nibodhata

Nibodhata the Bengali journal is now being published every two months.
more...
Current Issue: Nov - Dec 2019
Samvit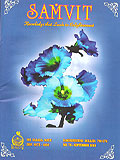 Samvit, the bi-annual English journal is published by Sri Sarada Math from the Ramakrishna Sarada Mission Centre at New Delhi.
more...
Current Issue: September 2018
Current News
updated on 15 November 2019
more...
Pravrajika Atandraprana, Assistant Secretary, Sri Sarada Math and Ramakrishna Sarada Mission left for Sydney on 30th September and returned on 21st October.
News Archives
If you want peace of mind, do not find fault with others. Rather learn to see your own faults. Make the whole world your own. No one is a stranger, my child; this is your own.